Increase Customer Engagement with Bold Design
"Creativity is seeing what others see and thinking what no one else has ever thought," Albert Einstein once said. Coming up with creative ideas and campaigns allows marketers to explore new possibilities. However, the decision maker who undertakes new signage or custom graphics project frequently requires assistance in making their vision or custom business signs a reality. According to SIGNHUB research, nearly half (47%) of marketing decision-makers believe custom sign and graphics projects are an investment in their business.
So, having a trusted partner who has the experience and expertise to help you achieve your vision is critical. Your inspiration is so important when creating custom signs and graphics. Here are a few things to consider for the marketer or business owner when deciding how to begin your project.
Brand Personality
Let's get right to the heart of your brand. A tangible depiction of what defines the brand is a terrific method to determine what type of sign or image reflects your brand's personality. "The Father of Modern Branding," David Aaker, believes that a brand speaks to people's deepest desires for self-expression, a trustworthy relationship, or delivers an emotional or utilitarian advantage to life. Whatever your brand vision strategy, your custom sign project can serve as a jumping-off point for brainstorming ideas for what your business sign can express.
Are you a crazy bookstore owner or a dependable financial advisor? Each of these signs will begin at an entirely different point. Brands can influence people's brains and behaviors, and bespoke graphics can play a significant role in establishing deeper meaning for the brand. Consider what makes your brand distinct and find a way to embody it.
Aesthetic Design
One of our in-house graphic designers can assist you in bringing your brand identity to life by designing a unique company sign. The type of sign, size, color, and overall placement is also determined by your city or community's permitting standards. Having our specialists on your side will assist you in gathering the information required for a more efficient permitting process, which might save you significant time and money in the long run. Custom visuals can include anything from living plants to lights, each of which is an excellent reflection of your brand's personality.
A comprehensive visual solutions provider can guide you through creating a holistically positive experience because the design is what you see and how a space makes you feel. Well-planned signage, branded decor, and brand relevance will help you bring your signage to life and ultimately elevate your branding.
Enhanced visibility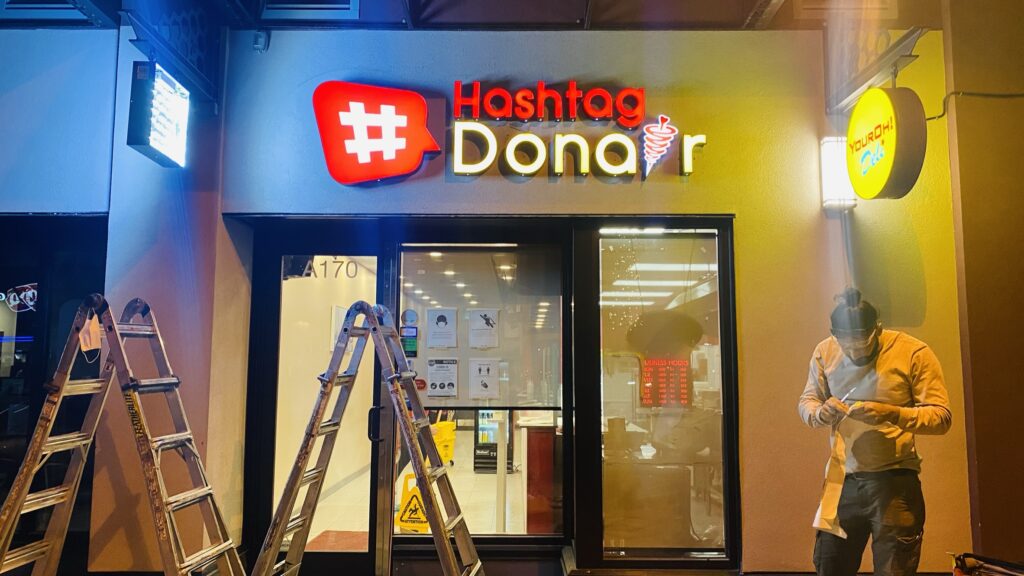 Make yourself visible while making a lasting impression. Brands that increase their exposure will attract more customers and deliver cues to entice them to visit, experience, and buy. You'll want to examine a range of elements to get your brand noticed to reach your aim of being seen and leaving an impression on your clients. "Customers rely on SIGNHUB to help them develop their vision, from colors to font size for readability, and even permits and coding." "We handle that process from beginning to end and enjoy watching their idea come to life."
Yes, your sign has the potential to become iconic.
A personalized business sign has the potential to become a treasured feature of a cityscape or neighbourhood, cementing your brand in the thoughts and hearts of all who view it. The style of a city or region can even be woven into the identity of the sign and become part of the brand story. Custom graphics frequently reflect the spirit of a location. We allow customers to interact with your brand more intimately, serving as the backdrop for social postings or family photos that will be remembered for a lifetime. When a sign becomes an iconic landmark, a "statement" piece within a community, it extends the life of a business.
Creating Visual Possibilities with a Unique Approach
Because no two brands or graphic projects are alike, a personalized approach to visual possibilities is essential. A loyal partner with an eye for design, skill in visibility, and a willingness to stay true to your brand's essence is also vital. "We combine originality, knowledge, and dependability, which gives business owners confidence that we can help them realize their vision,".
If you're looking for a custom-branded sign, let SIGNHUB visual communication professionals inspire you to achieve more than you ever imagined possible. Visit our Website